Today, electronic sensor systems are doing everything, from regulating and monitoring fuel to diagnosing problems. Modern electronic sensors constantly monitor vital engine parameters like oil pressure, coolant temperature and emissions, and report back to the driver when something goes wrong. In older vehicles, engine sensors and instruments were simple. Modern vehicles are built with complex electronic sensor systems. These allow car manufacturers to launch cars that are safer, more fuel efficient and comfortable to drive. Almost all modern cars have plenty of sensors. Each sensor is installed to make the drive safe and comfortable for the driver during the day and night as well as in good or bad weather.
But in this blog, we are particularly talking about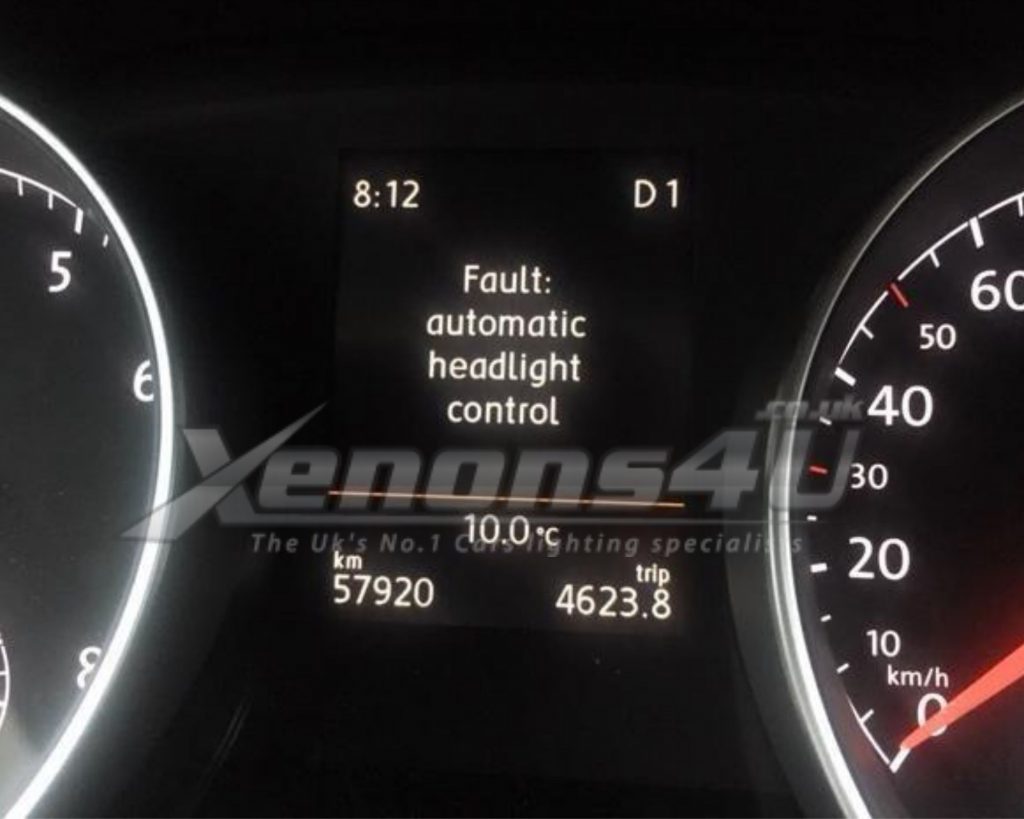 Audi VW Skoda Seat cars with their rain light and humidity sensors which is actually equipped with up to 5detection capabilities including humidity measurements, solar sensor, and weather conditions built into one; and help the driver in rainy, bad light or humid situations. Typically located in the glass of the windshield near the rear view mirror, these sensors can detect rain on the windshield and analyze the overall brightness outside. The main function of these light sensors is to control the automatic daytime running light/ main beam headlights and automatic wipers.
The light and rain sensors are important for monitoring the weather and adapting the car to tune it-self to work fine even in bad weather or outside environment.  If there is a problem with them, then the warning light will show up with a corresponding message on the dashboard saying "Fault automatic headlight control" and or "Fault: Windshield wipers".
Once above mentioned faults are triggered your automatic headlights (auto lights), windshield wipers and other functions cease to work properly as automatic.
These malfunctions are very common in Audi A1 A3 8V A4 B8 B9 A5 A7 S7 A8 Q5 Q7 Q8 TT VW Passat Seat Golf MK7 VII and Facelift Tiguan Touareg Touran Seat and many other car models.
Rain Light and humidity sensor explained:
The rain sensor is a switch activated by rain. It is responsible for automatic windscreen wipers and protecting the internal systems from the rain by adapting the wiper interval to match the intensity and amount of rain. It works by sending a beam of infra-red light that is if reflected back at different angles means when water droplets are found on the surface of windshield but if the full amount of light returns to the photo diode, the windshield is dry. These sensors tell the system to activate the wipers automatically in response to the intensity of precipitation outside and adjusting it to the vehicle's speed as well.
That's a real convenience and potentially a real safety benefit when driving through heavy rain on a dark highway but it will become even better when automatic headlights turn on at the same time as the wipers, because there are some light conditions where driver may not experience good light and also may not notice they are not on. Also, some states require that the headlights should be turned on with the wipers in use, so it is worth noticing to drive legally safe.
The light sensors work in a similar way, detecting the amount of light coming from outside through the windscreen. If the light is below a threshold then it automatically activates headlights while the car is on. However, this is a system installed in modern cars, but some cars still retains conventional headlight switches where manufacturers have wired the automatic headlights through the ignition switches and which allows the drivers to turn light on and off and bypass the sensors, in certain situations such as when the car is ignited, light level is low and headlights are turned on automatically, but the driver can put them off through the switch. Likewise, the drive can put them on when there is dark and DRL headlights are not turned on automatically.
So, do we really need to bypass sensors every time and rely on manual switches? No.  There could be some reasons to sensors not working properly and wipers or lights are not turned on automatically.
What can affect the functionality of sensors?
There are limitations to both sensors, as some conditions are too complex for a computer to understand.
The rain sensors can be thrown off by debris or dirt on the windscreen which alters the amount of light reflected back, the dirt can also affect the light sensors which are blocked off from any light. This can be remedied with a spurt of windscreen wiper fluid and a quick wipe across the windscreen. If the light persists then you may want to have a car wash.
The light sensor is also thrown off by fog or during intense rainfall since some light can still be detected. Light sensors only detects light so sometimes, it cannot distinguish if the darkness level is due to sunset or just temporary blackout in the middle of the day, so they comes out ON when something block the sunlight or when the driver is just parking.
But sometimes, it could happen that your automatic headlights are turning on and off automatically when there is no rain or when it is still bright outside or vice versa; so in that case, without jumping to the conclusion that the sensors are failed, it is recommended that give your car some time to adjust for the changes in outside environment. For example, If you are driving through or the car sits in a cold and dark outside, it may happen that sensors couldn't adapt quickly to that change and altered their function. You can try parking your car in some warm and bright place for 1-2 days to check if the sensor came back to its proper functionality. If not, then you can be assured that definitely the sensor has failed.
Replacement is the only Fix!
You can fix your error code by replacing the old, faulty sensor with a new one. This is a simple, quick and easy procedure which may be followed step by step for proper installation.
But before replacing old rain light and humidity sensor try to leave car at warm place for example a garage etc. as sometimes sensor gots confused and brings that fault, sometimes it does work, sometimes it doesn't, but before spending money and time to replace it try this free advice, because this kind of "fix" is mostly of times working on mercedes-benz cars.
If after trying cleaning and leaving car at warm place fault message doesn't dissapear, you'll have to replace it with new part.
Removal Instructions:
Remove vehicle-specific cover on inside of windshield
Carefully disconnect electrical connector from connector housing
Gently press down retaining spring and use a small screwdriver to release from the lock
Release the sensor and gel pad from the windshield by slowly and repeatedly pulling on the plug side without exerting force, and remove.
Installation Instructions:
Make sure the assemble area is free of contamination and dry. If not, then clean it with alcohol-based cleaner.
Gently press on the two spring clips on the retaining frame position to position the sensor in the assembly area. Now audibly engage the retaining clip by increasing the pressure on the right and then the left spring arm in turn. The sensor should not be tilted while increasing pressure. Do not engage both spring arms at the same time.
Lock electrical connector in connector housing and check if it is fitted correctly.
Perform visual inspection of windshield in sensor area after assembly.
However, depending on the vehicle manufacturer, different coupling medium can be used but incorrect assembly may result in malfunction or sensor failure
The newly installed sensor should work perfectly now and can be checked by simulating precipitation on the windscreen. The windshield wipers should now start and the wiper frequency adapt automatically to the simulated "rain intensity". If there is no response but all other manually activated wiper stages are working properly, a diagnostic unit is needed for further testing.
For further diagnostic testing, you can take your car to the expert mechanic to diagnose and fix this warning message.
Diagnostic Trouble Codes (DTC) for faulty sensor:
934660 - Rain/Light recognition sensor
B1344 04 [009] - Internal System Fault
B1366 04 [008] - Internal system Fault
Cars with fitted sensor:
Audi A1 S1 8X A3 S3 8V A4 B8 8K B9 8W
Audi A5 S5 8T 8F A6 C7 4G A7 S7 4G A8 D4 Q5 8R SUV Facelift
VW T-Roc 2.0TDI
VW Golf MK7 VII 2014 2015 2016 2017 2018 2019 2020
VW Golf Hatchback e-Golf R-line Sportsvan Estate
VW Passat B8 3G Passat CC
VW Golf MK7 VII 7 R-Line Facelift 2014 2015 2016 2017 2018 2019 2020
VW Passat B8
VW Polo 6R
VW T-Roc
VW Sharan
VW Passat CC
VW Tiguan 7N
VW Sharan
Skoda Octavia MK3 5E3
Seat Leon 5F1
Seat Ibiza
Seat Ateca 2016-
Seat Tarraco 2019 2020 2021
Seat Toledo 2016 2017 2018 2019
Skoda Karoq Kodiaq
Below you'll find part numbers of rain light and humidity sensor.
VAG part numbers:
81D955559
81D955547
81D955547E
8U0955559A
8U0955559
81A955547A
81A955559A
8U0955559C 8U0 955 559 B
8U0955559B
8U0 955 559C 8U0955559C
7N0 955 559 7N0955559
5Q0 955 547 B 5Q0955547B
5Q0955547 5Q0955547A
MRO and ATW part numbers:
321.718 321718
321.380 321380
307935
603085
603086
603087
17008139-01 - 1700813901
321684 - 321.684
331.474 - 331474
321986 - 321.986
As always if you have found this blog useful, please pass it on via social media, much appreciated!