In the Mercedes Benz daytime driving lamps turn on automatically when the engine is running to improve the visibility of your car during the day and helps you and other driver to stay safe whilst driving the car. But when it doesn't; a warning message on dashboard appears indicating left or right daytime driving lamps error.
Mostly daytime running lamps and sidelights are fitted into the headlight unit and usually people mistaken for taking these lights as headlights. These are actually a separate light from the headlights and work great as a way to identify the car using them to other cars on the road. Unlike headlights, they are not intended to illuminate the road ahead, and they don't also have any rear marker lights. They are simply dim lights at the front of the vehicle which gives an additional visual cue to the others on road. However, depending on the car's make and model, some others have these DRL fitted either as retrofit and or factory fitted onto the bottom of the front bumper.
What does daytime driving lamp mean in Mercedes-Benz?
Since the purpose of Daytime running lights is to make the vehicle more visible during daylight hours and to alert other drivers when/if they are in their blind spot, in all newer post-2010 manufactured cars, DRLs are installed as mandatory feature to ensure the safety of vehicles on the road. This helps to improve safety and glare.
This feature with built-in daytime running light lamps into lower part of the bumper was firstly introduced on Mercedes-Benz C-class W204 S204 and C204 Facelift coupe  and E-class W212 S212 A207 C207 and S-class W221 Facelift cars, later on it was re-designed and built-in inside the headlamp unit housing.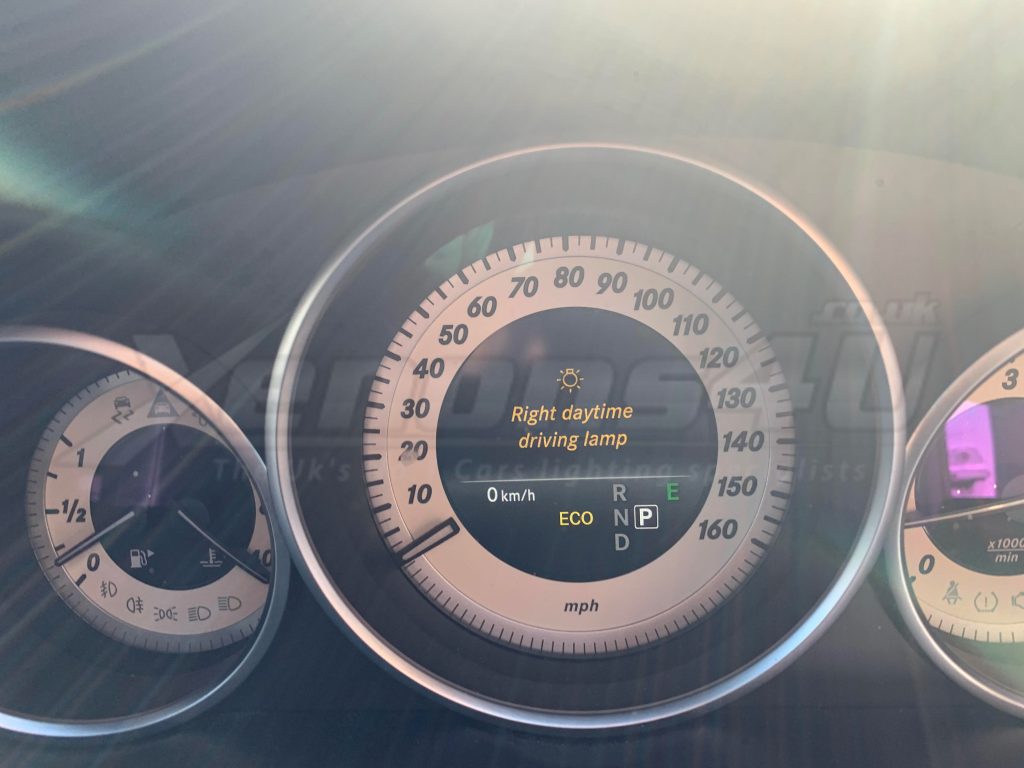 In vehicles equipped with daytime running lamps, the system is automatic and they are functioned to be turned ON when the vehicle is ignited. Originally they worked by using a lower power setting on already existing high beam lights but as the time is passing by, automakers are adopting DRLs as a brand identifier and each auto maker now does it's unique look like Audi VW Skoda BMW or Mercedes-Benz.
When the headlights are turned on by the driver or the automatic system of the vehicle, the DRLs may stay on or turn off but sometimes when you start your Mercedes-Benz, unexpectedly a warning message pops-up on your dashboard saying check left right daytime driving lamp error. Many different brands such as Audi Skoda VW Volkswagen Seat Porsche BMW Ford Vauxhall Opel GMC Cadillac Fiat Citroen Peugeot and many other can experience the same warning message as well.
This error means that headlights have malfunctioning component such as LED Power Driver, LED Control Module, LED with heatsink diode or the lamp itself. Usually when one side of LED DRL light component goes out, we always recommend to check LED unit module and the best way to check if it is faulty is to change sides, but if both sides have stopped to work the same time it might be different issue as it is very very rare that both fail the same time.
Diagnosis for daytime running lamps malfunctioning
Unlike other warning indicator lights which illuminate to indicate a problem, the DRL indicator light will not be illuminated if there is a problem with the system so, before you go too far into the troubleshooting process, we suggest a quick glance at the owner's manual.
Following are some symptoms that may be noticed if there is a problem with the daytime running lights system:
DRL lights not turn on, lef t or right and warning message displayed
LED Daytime Running Light lamps are flickering
DRL Lights turn on/off and random times
Left Right Daytime Driving Lamp doesn't work and warning message present on the dashboard
When the daytime running lights are not working properly, typically the main cause of DRLs malfunctioning are faulty exterior LED lamp unit or headlamp control module fitted on the headlight unit so you check them in first place.
Or it may be a bulb having burned out so if it's a sidelight bulb failure then simply check for a faulty halogen bulb by pulling it off, because at times it's just the sidelight bulb which has failed.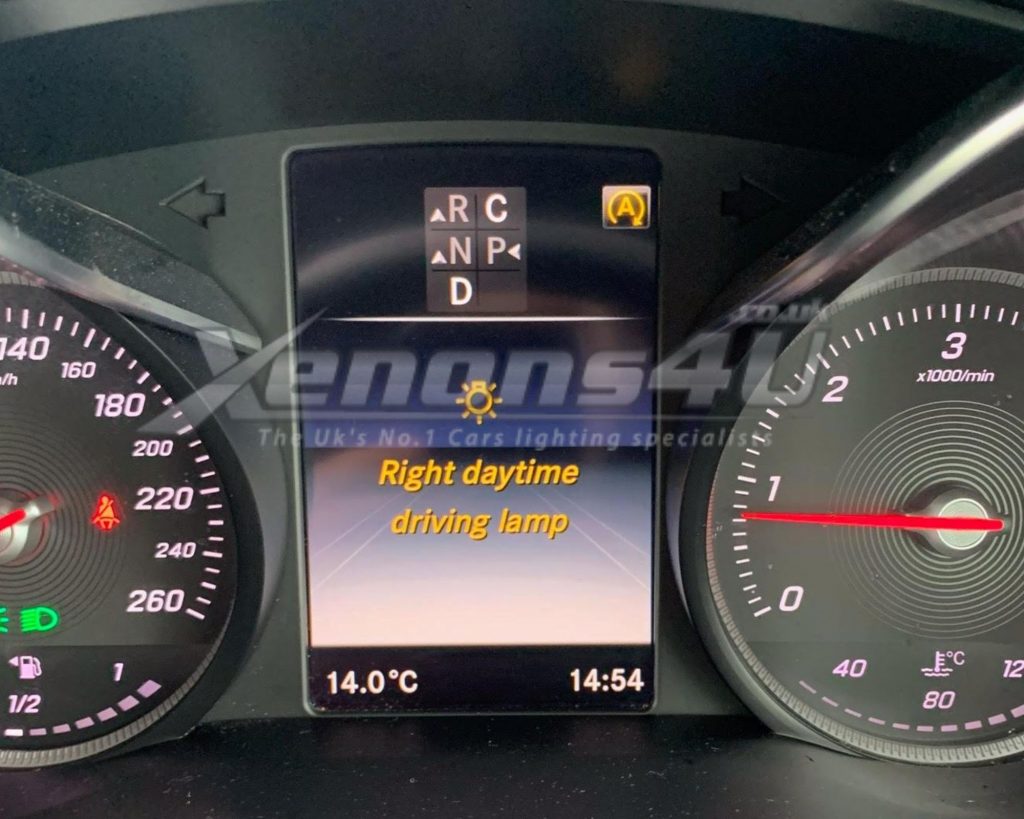 If your Mercedes-Benz car is made after 2014 it will be different issue, then it is most likekyl there is a problem with the DRL lamp module also known as LED ballast  or LED control module.
To find out if module has failed, the easiest way is to remove it inspect for any moisture or water damage, shake it (usaully if there is water inside it makes sound) or if there is clear signs of moisture damage, you'll need to replace it.
If there is no water damage try to change sides, make sure before testing that fuses are in working order, because when mercedes benz led module gets water damaged it might trigger headlamp fuse.
Again, if the DRL lamp module is working fine and error is still there; then LED insert module also known as Led light source needs to be checked which emits light to the DRLs.
Mercedes-Benz cars fitted with headlamp Daytime Driving Lamps:
B class W246 W242 2014 2015 2016 2017 2018
B class B160 B180 B200 B220 B250 BlueEFFICIENCY 4MATIC CDI
C Class W205 S205 A205 C205 Pre-Facelift 2014, 2015, 2016, 2017
C class W205 Saloon Sedan
C class S205 Estate
C class A205 Convertible Cabriolet
C class C205 Coupe
C Class C200, C220d, C250d, C300, C350e, C400, C43 AMG, C63 AMG, BlueTEC 4Matic
S Class C217 Coupe 2013, 2014, 2015, 2016, 2017
S Class A217 Convertible Cabriolet 2013, 2014, 2015, 2016, 2017
S Class W222 Saloon Sedan 2013, 2014, 2015, 2016, 2017
S Class S350 S400 Hybrid S500 S600 S300 BlueTEC S350 4Matic S550 S63 AMG, S65 AMG
CLS class C218 X218 2011 2012 2013 2014 with LED HIGH PERFORMANCE headlamps
CLS class C218 X218 2014 2015 2016 2017 2018
CLS class CLS350 CLS400 CLS500 CLS63 AMG CLS220 CLS250 CLS350 CDI BlueEFFICIENCY BlueTEC
E class W212 Saloon Sedan
E class S212 Estate Wagon 2013 2014 2015 2016
E class C207 Coupe
E class A207 Convertible Cabriolet 2013 2014 2015 2016 2017
E class W213 S213 A238 C238
E class E200 E220 E250 E300 E350 E400 E550 4MATIC CGI BlueEFFICIENCY CDI BlueTEC
GLE ML W166 2015 2016 2017 2018
GLE Coupe C292 2015 2016 2017 2018
GLS GL X166 2015 2016 2017 2018
GLC X253 Hatchback C253 Coupe
Vito W447 Van Bus 2014 2015 2016 2017 2018
How to Fix it!
If you are experiencing a problem with the DRL, the above diagnosis will only help you to identify the causes and unfortunately, the only option you are left with is to replace the old faulty parts with new ones to fix this error.
You can attempt DIY repair or make an appointment with a certified technician, such as Xenons4U to have the DRL problem diagnosed and repaired with spare aftermarket replacement or genuine original parts.
As always if you have find this blog post usefull, please share it via social media.